Gin-Migaki-Ji Maru-Gata Katakiribori Iroe Tsuba
Reference Number

TU-10064

Title

[ Three Deities of Good Fortune ]

Time

Around 1790 (During the Edo period)

Inscription

" Yasuchika "

L x W x H

7.0 x 6.0 x 0.3 cm

Nakago Hole

2.9 x 0.7 cm

Weight

99 g

Material

Silver

Box

Wooden Box

Certificate

Kanteisho issued by Nihon Tosogu Bijutsukan

Description

The attached certificate issued by Nihon Tosogu Bijutsukan proves that this tsuba was made by the 4th Tsuchiya Yasuchika.
The Tsuchiya in Edo area is very famous school. The 4th head is well-known as skillful craftsman.
So, this is precious sword guard from the aspect of Japanese art history.
The Three Deities (Fukurokuju, Jurojin and Daikokuten) are expressed humorously on silver ground metal with Katakiribori and Iroe methods.

Price

Sold, thank you !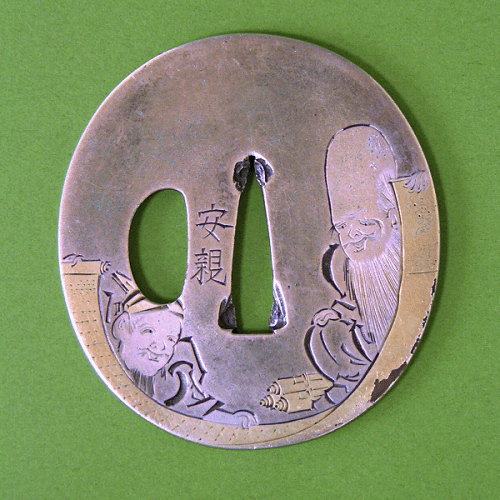 Fukurokuju Deity and Jurojin Deity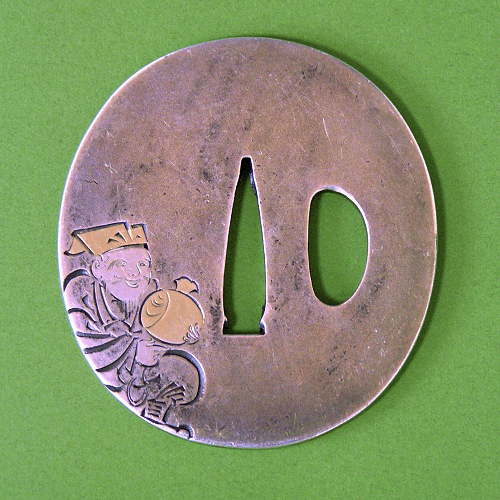 Daikokuten Deity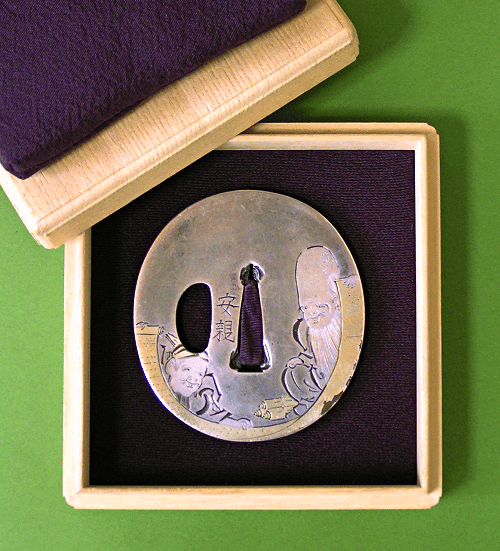 In Special Wooden Box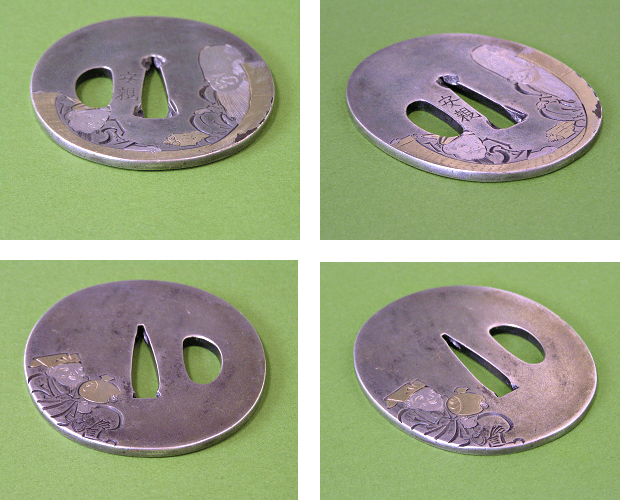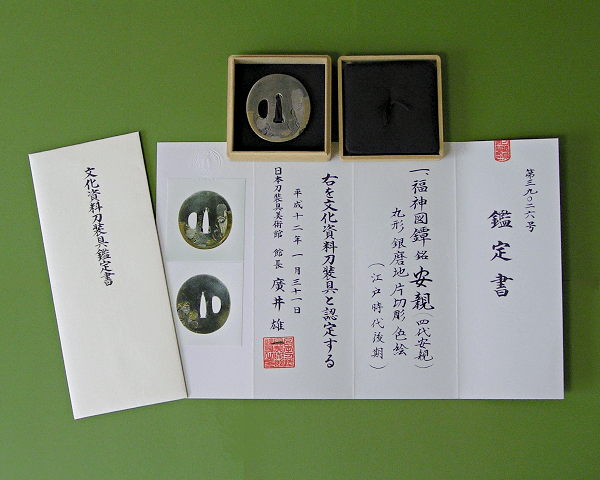 Certificate issued by Nihon Tosogu Bijutsukan
About Craftsman

The 4th head Tsuchiya Yasuchika (Lived around 1790)

He is the fourth head of the Tsuchiya family.
The Tsuchiyas are very famous tsuba maker family in Edo area (=Now Tokyo).
The Tsuchiya family has succeeded seven generations during the Edo period.
Every head called himself Yasuchika.
The fourth head Yasuchika is known as skillful craftsman.
Features

This tsuba is made of silver (argentine, Ag).
The surfaces are polished well.
Its shape is round.
The Three Deities of Good Fortune are expressed by chisel with the Katakiribori method.
Katakiribori is carving technique that looks like Japanese brush painting.
Iroe is very advanced inlay technique. Gold or Silver or brass is burned and sticked to a ground.