Tetsu-Ji Mokko-Gata Kin-Zogan Ryu-Ukashi Tsuba
Reference Number

TU-10152

Title

[ Rosary & Dragon ] Made by Famous Maker

Time

The Edo period (1603 - 1868)

Inscription

No Inscription

L x W x H

8.15 x 7.15 x 0.35 cm

Nakago Hole

2.7 x 0.7 cm

Weight

104 g

Material

iron

Box

Wooden Box

Certificate

Nihon Tosogu Kenkyukai Kanteisho

Description

This tsuba was certainly made by the master craftsman at the end part of the Edo period "Tanaka Kiyotoshi".
The certificate issued by Nohon Tosogu Kenkyukai proves that.
The Buddhist rosary on both sides and the rim part are inlaid with gold.
The inlay technique is Nunome-Zogan technique.
The inlay has almost kept as it is.
And the dragon is expressed on both sides by Ukashi technique.
This is very unique and beautiful tsuba.
Very precious and valuable from aspect of Japanese tsuba craftsmen history.

Price

Sold, thank you !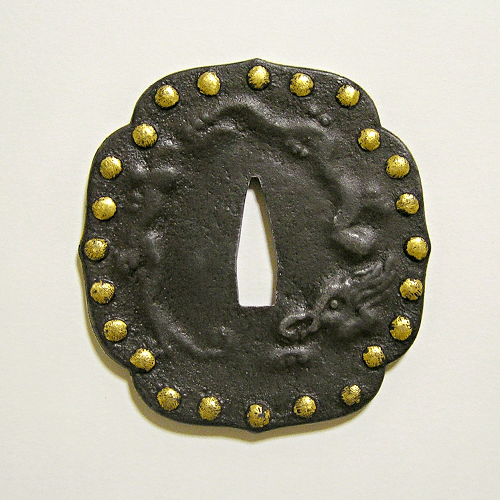 The rosary is expressed in "Nunome Zogan" inlay technique with gold.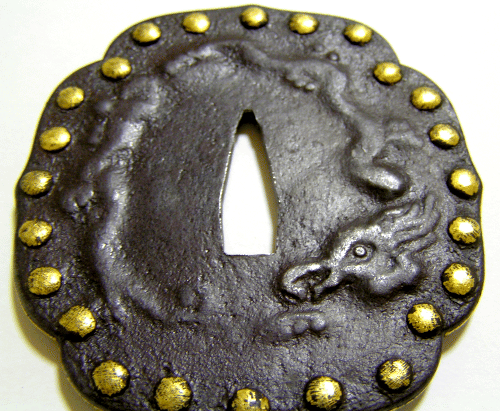 The dragon is expressed in "Ukashi" technique.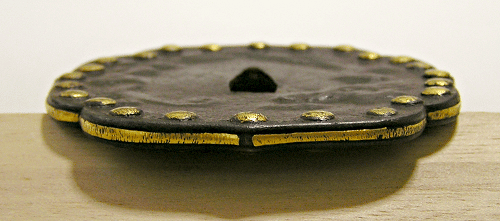 The rim part is also inlaid with gold.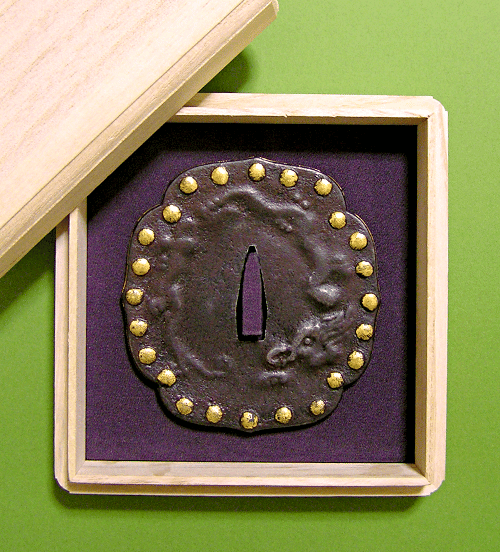 Comes with a wooden box.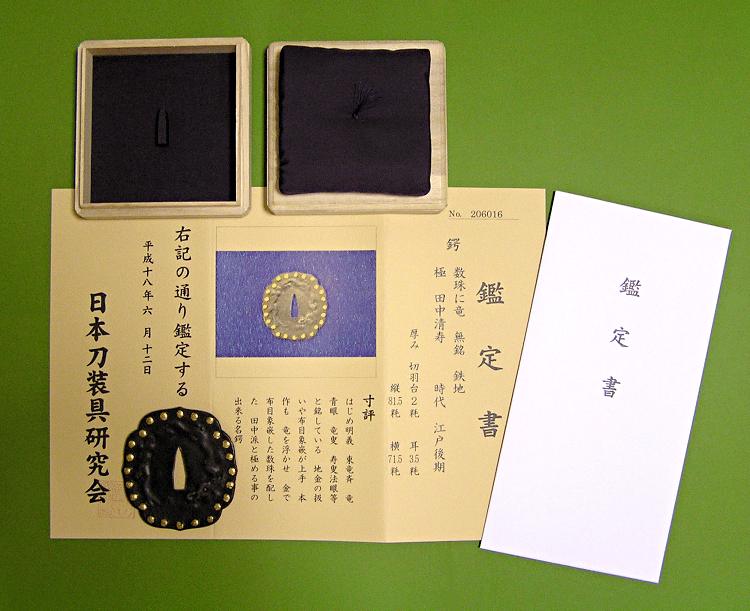 ( Certificate issued by Nihon Tosogu Kenkyokai on June 6 of 2006 )
About Craftsman

Tanaka Kiyotoshi (1804 - 1876)

Tanaka Kiyotoshi is famous master craftsman at the end part of the Edo period.
At first, he called himself "Akiyoshi" and studied metal-carving techniques of the Shoami school at Aizu of Mutsu Province (=Now Aizu Wakamatsu city in Fukushima Pref.).
Later, he went to Edo and established his name, fostered many pupils such as Toshiyoshi.
He was confered "Hogen" rank by the Tokugawa Shogunate.
Master craftsman.
Features

This tsuba is made of iron. Very well tempered.
It is shaped like a Japanese quince.
The Buddhist rosary is expressed in gold inlay method.
The inlay technique is called "Nunome Zogan" in Japanese.
The dragons is expressed in Ukashi technique.